bit of a struggle, getting the clamps nicely spaced, due to the nature of the masonry and having sufficiently large enough lumps to fix to ..... the best possible from a difficult scenario ..
having gotten to the top, there was sod all in the way of solid enough masonry, to contain yon python in its preferred route, so it had to be attached to the soffit and purlins above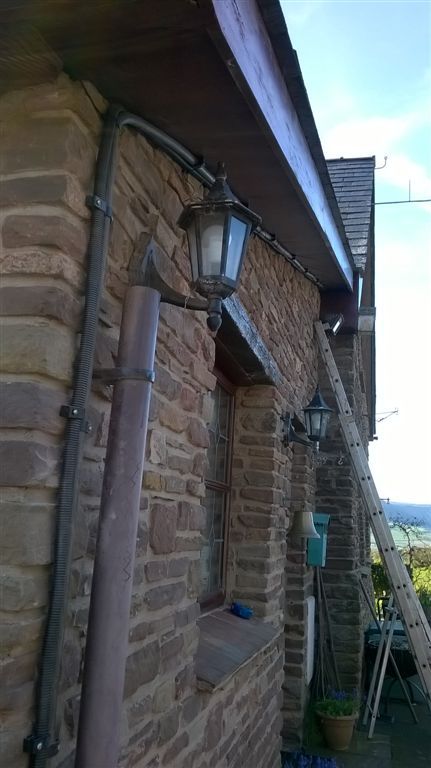 boss is happy with it and realised (for once), it was not an easy job ..... even managed to get it all through an opening in the wall and into the attic space ...... with a struggle
if I get sick of looking at it on the soffit, I can always box it with a suitably cut/rebated timber strip and give it some Sadolin to camouflage it
had to venture into the spider's lair, in the attic space, to make sure the cable ends I'd persuaded in there, weren't 'shaking hands' with anything they shouldn't be ... they weren't .....
next up is sorting all the various junctions and connections required ..... and coercing some 10mm tails down into the consumer, (which is a 'pig's guts - would like to meet whoever wired it
), to feed everything, once I've wrestled it all into place .....
I still have to maintain my current catenary supply to me boxes, 'til it's all ready to be disconnected, prior to a move and I don't have a lot of space, or juggle room, for all the tails, where they all appear in there
A couple of boards required for a bit of comfort .... trying to balance on 4 x 2,s, with limited headroom, is a recipe for disaster ...... I do not need to be repairing a ceiling as well .....
so first job in the morning is find some suitable bits of ply ..... that'll fit through what is not the greatest of loft access holes, into what is not the biggest of attic spaces .....
good progress though .. on the home straight....... for this bit anyway
The time all these fiddly, pissy about bits take is unbelievable though